Previously I did time in the dark little city of Cárdenas and finally made it my next destination, Villahermosa. Now it's time to explore another one of Mexico's great cities, and the ruins of one of its empires.
Tuesday, January 13 – Saturday, January 17 (Days 921-925 of the Great Adventure)
Villahermosa is a city of contrasts. It's the state capital, but not much happens in the centro; it's a metropolis, but good luck finding internet; and despite these inadequacies it's oddly expensive—easily on a level with San Miguel de Allende, the gringo haven. It does live up to the "hermosa" in its name though, with a gorgeous central plaza, winding tree-lined streets in the Zona Luz (Zone of Lights, the hip area), and lots of parks and public spaces.
My room at Choco's Hotel was, well, weird. The only window opened onto the stairwell, meaning I had to make sure the curtain was closed at all times. It had a small writing desk at least, but the bathroom was hilarious. Here's one of my video logs to prove it:
I didn't spend too much time there. Most of the first day was sent dodging rain and looking for a coffee shop with good wi-fi. Café Havana, tucked on a pedestrian mall near the Centro, seemed promising, but I couldn't get the signal to work and the waiter was unsympathetic. Café Punto del Cielo, a popular chain in Mexico, had a particularly striking setting: stone archways with walls of pure glass, a view in every direction—plaza on three sides and the river on the fourth. I tripped into this beautiful space excited to work there, but the barrista informed me their wifi was down. Back into the rain I went.
Café Punto del Cielo in the central square. Photo via Foursquare.
After exploring several phantom cafés that exist only in Google, I settled upon Antigun Café in the Zona Luz. This place also doesn't have wi-fi, but I could at least get a phone signal there and decided to drain my data plan to get my work done.
During my wanderings I'd spotted a surprising number of Chinese restaurants, so tried one out for dinner. It was mall quality, but good enough with hot sauce.
Ilusiones
The next day was an exploration day. My main goal was the museum park of La Venta, an outdoor archaeological park with the remains of the Olmec empire.
On the way I made a few other stops. First I checked out the observation tower near the Centro—a stark East German looking structure that shoots up from a pedestrian bridge over the river. Every source I could find assured me it's free and open to the public, but when I got there in person I found a locked cage gate over the doorway and a distressing number of ripped-out electrical wires visible inside.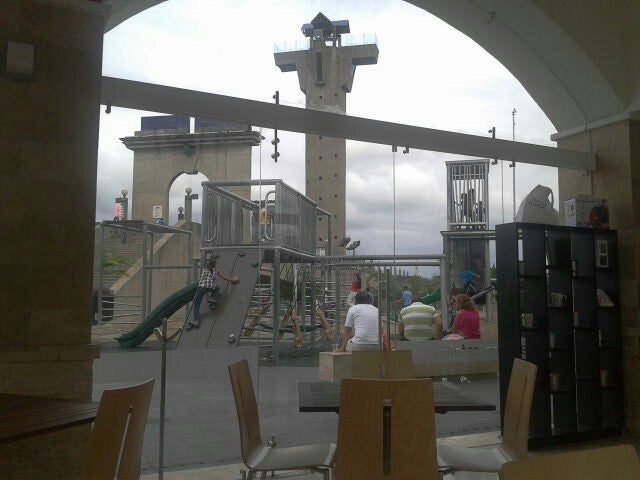 The observation tower and bridge entrance, also seen from inside Cielo. Photo via Foursquare.
Next up was a small park I noticed on the map. It fascinated me because it has a lagoon with an island. Remember, even just open water in a Mexican city is a little unusual to me, Catemaco notwithstanding. I wanted to see this for myself.
Parque el Jícaro was kind of empty and lonely. The spot where it meets the street is mud rather than lawn. Beyond that, however, is a paved pathway that encircles the entire lake, with some fantasy architecture including steps that go down into the water. Humble houses ring the pathway, and the people there waved and said hello, a refreshing change from Cárdenas
The museum park lies across a much bigger lake. I could have taken a main street all the way there, but I chose to wander backstreets instead. Soon I turned down a dead-end street called Las Ilusiones, a name that would be right at home in New Orleans. With a name like that I had to see it for myself.
The street headed straight down to the big lake. It was a quiet, sleepy lane lined with upper middle class houses: big white cement affairs with walled yards and gardens. One even had a gazebo. The workers from one house sat at a card table outside, taking a break and playing some kind of game. They waved as I went by.
At first I thought this was it—it was just a vaguely yuppy-ish lane with a too-creative name. But oh no. I followed Las Ilusiones to the very end, the shore of the lake itself, wondering if the rich folks had a little beach. Instead I found this:
That's right, the lakefront of this beautiful, wealthy neighborhood is used as a public trash dump. Illusions indeed.
Back up the lane I went, across a bridge over the lake, through a city park filled with more Soviet structures, and up to the gates of La Venta.
The Museum Park La Venta
If I understand the history correctly, La Venta is actually some distance outside of Villahermosa, and is a rich trove of Olmec treasures. But the archaeological site was threatened by Pemex oil drilling, and archaeologists had to evacuate the statues and artifacts to a safe place in a hurry. They established the park to both save the treasures and put them on public display.
I arrived about an hour and a half before official closing time, which meant no one wanted me there. The park was nearly deserted, and two museum staff followed me at all times to make sure I kept moving. They kept a respectful distance, but the message was clear.
The park is a forest. You follow wandering pathways through the jungle and come upon clearing after clearing, each one bearing an altar, a preserved tomb or a stone head. Museums take notem because this is ingenious. It creates the sense of true exploration. You always feel secluded and never know what will be around the next curve. Perfect.
Ignoring the hint from my two shadows, I took video after video, always thinking it was the last one but then finding something even more amazing a few minutes later.
Here's the video log of a stone mosaic that looks like a puzzle in Illusion of Gaia:
The whole series of La Venta videos is effectively a virtual tour, available to supporters. Happily, La Venta also has a large population of tejones, a.k.a. coatis, a.k.a. LITERALLY THE CUTEST ANIMAL ON EARTH, as this picture proves:
Coati! Photo via Animals World.
And yes, I got a bunch of them doing coati stuff on video, also available for supporters.
La Venta is big, but even when I finished it there was more to see. I bought some fried plantain chips and walked along the shore of the lake, a herd of coati following me. (They didn't seem too interested in the fried bananas, which means these scavengers from the raccoon family are healthier eaters than I am.) A footbridge along the lakeshore had another observation tower, and this one too was sealed shut:
Still hungry, I began the long walk home. I stopped at a sushi restaurant for dinner, where I observed a solo female traveler (Mexicana, not foreign) doing exactly what I was doing: sitting alone, eating slowly, reading on her phone. I didn't talk to her and she didn't talk to me. It was like introvert sex.
Afterward I stopped by an Italian restaurant I'd found in the Zona Luz, called La Dantesca, where I grabbed tiramisu for dessert.
Another famous building in Villahermosa. Mexican government photo.
Rainproof Priest
The rest of my time in Villahermosa was relatively tame. I spend a lot of it working and a lot more walking around, even buying an umbrella to combat the rain (at "we know you need this" stormy day prices). I discovered another cozy café in the Zona Luz, this one with actual internet, but the owner had a habit of standing on my table to bring down imported Italian goodies for other customers.
I'd noticed some good-looking pizzas at La Dantesca, and went back twice more for dinner. It's terrific, and I highly recommend it.
[Andre's note: If it seems weird that I eat so much pizza on this trip, bear in mind that it's one of the few non-Mexican foods you can find almost anywhere in Mexico. After enough tacos you start to crave something different.]
Throughout all this I kept a nervous eye on my bike, which was outside in the (gated) parking area of Choco's hotel. He did fine and no one harmed him, plus I did some late-night maintenance to make sure he'd be in tip top shape come the next leg. Soon it would be time to get back on the road.
Next time the weather changes for the better and I strike back toward the Gulf Coast. This is the beginning of the final stretch into Yucatán. Until then, check out previous road logs or become a supporter.